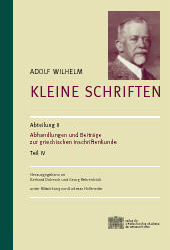 Adolf 

Wilhelm (1864–1950)


war Professor für Griechische Altertumskunde und Epigraphik an der Universität Wien




Vor nunmehr fünfzig Jahren verstarb Adolf WILHELM, einer der größten griechischen Epigraphiker seiner Generation. Seine enorme Schaffenskraft schlug sich, neben einigen Monographien, weit überwiegend in Hunderten von eher kleineren Artikeln nieder, die sich aber durch außerordentliche, präzise Dichte der Darlegungen auszeichnen. In ihrer Fülle blieben sie freilich kaum überschaubar und sind zum Teil auch an schwer zugänglichen Stellen publiziert. Der Nachdruck dieser "Kleinen Schriften" Adolf Wilhelms stellt also ein Desiderat ersten Ranges in der Gegenwart dar. Das ehemalige Zentralantiquariat der DDR in Leipzig hat in den Jahren 1974–84 mit einem solchen Reprint begonnen und insgesamt fünf Teilbände erscheinen lassen. Es verblieben noch ca. 174 Artikel. Im Jahr 2000 erschien im Verlag der ÖAW Band II/3, der in der Fachwelt sehr positiv aufgenommen wurde, unter anderem beim Gedenk-Symposion für Adolf Wilhelm vom 2. bis 4. November 2000 in Athen. Mit der Nummer II/4 wird nunmehr der zweite bei der ÖAW herausgegebene Band vorgelegt.
…
It is now 50 years since the death of Adolf Wilhelm, one of the greatest Greek epigraphers of his generation. Although he authored only a few monographs, his huge creative power was reflected overwhelmingly in hundreds of generally smaller articles that are remarkable for their extraordinary and precise density of explanation. Of course, the wealth of material is hardly manageable, and in addition was in part published in sources that are difficult to access. The reprint of these "Kleine Schriften" by Adolf Wilhelm thus constitutes a desideratum of the first order for the present age. The former Zentralantiquariat of the German Democratic Republic in Leipzig began such a reprint in 1974–84, publishing a total of 5 part-volumes but leaving around 174 articles still to be dealt with. In 2000, the ÖAW press published Volume II/3, which was very positively received in the academic world, inter alia at the Memorial Symposium for Adolf Wilhelm held in Athens from November 2 to 4, 2000. Vol. II/4 is now the second volume to be published by the ÖAW.